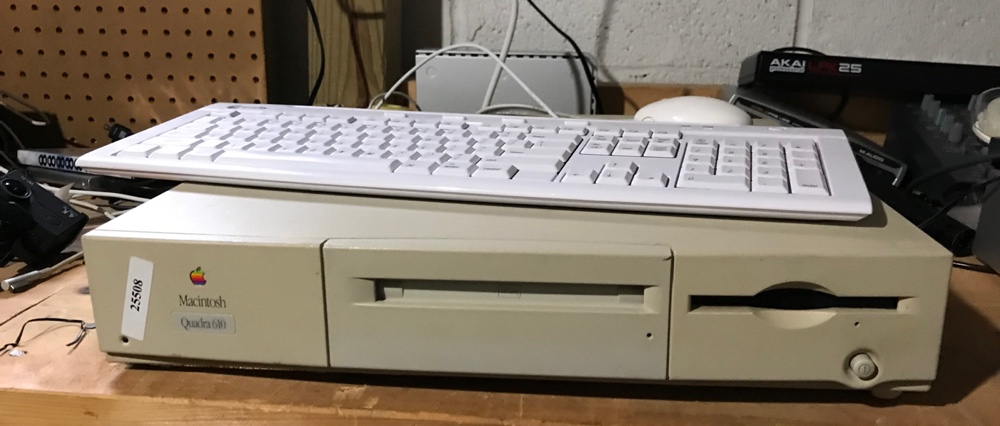 Several months back, I, in a fit of poor decision making, bid a low offer on an old Quadra 610 on eBay. I regretted it, but I didn't think I was going to win the machine. And guess what? I won the auction. The Quadra 610 arrived in decent shape in a big box at my doorstep.
Since then, I have tried to get it working. The good news – it does boot up and shows the question mark folder sign. There is a purplish tint to the screen, which I believe is a sign of an aging motherboard. Unfortunately, nothing else works – floppy drive spits out any disk I put in, and after scrounging up an old CD tray, the drive churns to meaningless purpose. What do I do?
Like any of these old Macs, the case has yellowed and is brittle as all get out. I have to be extra careful when handling it, but that is also true to the old Performa 5215 sitting in my basement. It's really not worth it to fix, but I have it. 68k Macs are fun. I haven't decided my course of action.
The cheapest route is probably to pull the scsi CD-ROM drive from my Performa and see if I can at least get a Mac OS boot install to work. From there, I can try to scrounge up a SCSI hard drive that I can put in (which isn't cheap) or invest in a floppy emulator for $129. I'm not keen on spending much money on such an old computer, so I may keep poking around and see what I can figure out.
The positive thing is that this Quadra 610 is one with a full 68040, which means I could run A/UX on it as a whim. I have no idea how much RAM or cache it has beyond that. So, we'll see.
What do you think I should do? Restore it? Or let it sit?
— Nathan